Having a compact blender on the road, in the gym, or at work can be very handy if you need to prepare sports or baby food on the go, or simply make a refreshing smoothie. Today, there are a lot of small standalone blenders, which run on built-in batteries and are able to crush ice.
Usually, such a blender features a portable cup or bottle with a to-go lid and is very convenient to carry. In this article, you will learn about the best portable blenders on the market and their specifications.
Of course, an important aspect, when working with a blender, is its power – the higher, the better. However, small blenders usually do not have powerful motors due to their design features.
This disadvantage is compensated for by durable sharp blades, powerful batteries, and high RPM levels. As for blender bottle capacity in mini blenders, most often, these cups are 380 to 400 ml in volume, which is quite enough for standard servings.
---
List of Top Portable Blenders
---
---
Review of the Best Portable Blenders
---
Hamilton Beach 51131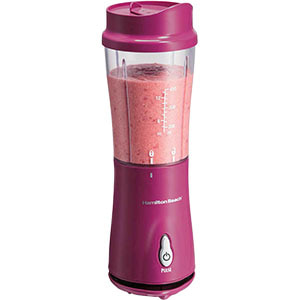 Pros
Compact BPA-free design
Stainless steel sharp blades
One-touch blending
Dishwasher-safe
Measuring grid
Fits most cup holders
Features
Manufacturer: Hamilton Beach
Color: crimson
Capacity: 14 ounces
Material: plastic
Power: 175 watts
Weight: 2 pounds
The portable blender from Hamilton Beach is one of the most efficient mini blenders, which, with fairly small capacity and motor power, is able to provide an impressive result.
It comes with sharp stainless steel blades, which run really fast, resulting in reliable performance and homogeneous mixes. To do this, you simply immerse your chosen ingredients and push one button. There are no additional operation modes here, so the preparation process is as easy as possible.
The Hamilton Beach Personal Blender has a smart design and is suitable for cup holders in most cars. The capacity of the jar is 14 oz, and it also has a measuring grid to let you know how much product is eventually produced.
There is also a convenient to-go lid, which prevents cup content spillage. This is a lightweight blender (plastic housing) with a reliable 175W motor that provides enough power to crush fine ice. All in all, it's a convenient and simple mini blender that will surprise you with smooth results, making smoothies, sports cocktails, and other cooling drinks fast.
This blender is suitable for healthy lifestyle followers that often travel or would like to make a vitamin cocktail or nutritious smoothie any time they need. The blender is easy to wash by hand and in a dishwasher.
It's lightweight and compact, which means it can be conveniently taken with you on the go or placed in a car cup holder. It's an ideal solution for offices and long journeys. This model comes in a crimson finish but you can choose another color if you want.
---
PopBabies Portable Blender
Pros
Handy funnel for convenient food adding
Battery-powered operation
Works while charging
Crushes frozen foods (not bigger than 2″), ice, and nuts
BPA-free and dishwasher-safe
Features
Color: turquoise
Dimensions: 3.2″ x 3.2″ x 10.2"
Capacity: 400 ml (14-oz available volume)
Material: plastic
Power supply: USB
Battery capacity: 4000 mAh
Charging time: 3-5 hours
Power: 175 watts
Weight: 1.3 lbs
Cup weight: 0.5 lb
Manufacturer: PopBabies
The PopBabies blender has a standard capacity of 400 ml, which is enough to make various healthy drinks and baby food. This portable blender comes with a 14oz measuring jar, which is accompanied by a convenient funnel for product adding.
According to the manufacturer, this compact blender with a 175W motor is able to effectively blend any fruits and vegetables, including frozen ones. In addition, it also has a unique function, which allows you to use it while charging. Of course, it is not recommended to load large ice cubes in it, thus the set includes a special tray for making small ice cubes.
The PopBabies blender features a capacious built-in 4000 mAh battery (charges 3-5 hours) and a power cord for autonomous operation.
The main material of the blender is BPA-free food-grade plastic. As for the extraction blades, they have a 4-petal design and are made of durable stainless steel. The product is easy to clean and dishwasher-safe.
This portable blender is suitable for both home and office use. Its low weight allows you to take it with you anywhere you want. High-quality sealed design, a handy food funnel, and a removable cup with a tight lid and a handle improve convenience.
You can quickly prepare a healthy puree for your children or make yourself a vitamin cocktail. Note that this blender is not suitable for hot contents (over 50 F) but it can easily handle frozen ingredients of the proper size.
---
Ninja QB3001SS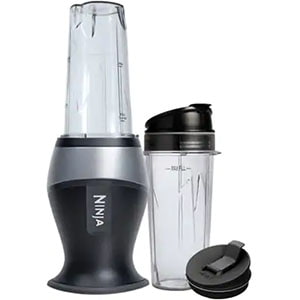 Pros
700W motor
2 16-oz to-go lids
Pulse Technology
Ice-crushing power
Portable design
Nutrient & Vitamin extraction
Dishwasher-safe
Easy to use
Features
Manufacturer: SharkNinja
Color: black
Capacity: 16 ounces
Material: plastic
Cord length: 36 Inches
Power: 700 watts
Weight: 4.63 pounds
The Ninja Personal Blender is a powerful device for turning food ingredients into a homogeneous mass in a few seconds. It's a perfect solution for making nutritious cocktails that comes with a powerful motor and is able to grind not only fruits but also nuts and even ice.
This popular blender needs no buttons – to make your healthy drink, you have to simply connect a stainless steel extractor blade with a Nutri Ninja cup and screw it in a 700-watt power pod. To make the blender work, twist the 16-oz cup counterclockwise or vice versa to make it stop.
After the blending process, you need to flip the cup upside down, remove the blade and cover it with a special Sip & Seal lid. Now your nutritious cocktail is ready, and you can take it with you.
The set includes 2 16-oz Nutri Ninja cups, 2 Sip & Seal lids, and a 30-recipe inspiration guide.
In fact, it's quite strange to call this model a mini blender, as it weighs 4.63 pounds. However, the blender does not take up much space at all and can be conveniently take and used in the office.
A protein milk-based cocktail can be prepared in a few seconds. The blender can be washed in a dishwasher or washed manually under tap water.
This powerful blender is available in a black finish. It's ideal for small kitchen or office use. It has a pretty long cord and is AC-powered. The Ninja Personal Blender is a small but efficient blender made of high-quality materials.
---
Tenswall Portable, Personal Size Smoothies and Shakes
Pros
Autonomous battery operation
Eco-friendly and high-tech design
One-button blending/cleaning
Automatic cleaning
Fast performance
6 stainless steel blades
USB charging
Increased safety
Features
Manufacturer: Tenswall
Color: white
Capacity: 380 ml
Battery: 4000 mAh
Material: plastic
Power: 120 watts
Speed: 22,000 rpm
Weight: 1.25 lb
A portable blender from Tenswall is a compact but effective device for the preparation of healthy drinks and fruit smoothies. It's able to work at high speeds powered by an in-built battery.
With its help, you can prepare about 380 ml of homogeneous fruit mass. The motor power is 120W (DC 7.4V). A special Six-in-One steel blade cuts fruits fast, creating drinks in less than a minute.
Since this blender has a battery capacity of 4000 mAh, one charge is quite enough to make up to 15 drinks. The blender is AC-charged or you can use a power bank with a micro-USB cord.
The blender comes in a white finish and consists of three parts: a motorized blender base, a jar, and a lid. The jar is made of eco-friendly PCTG, BPA-free material, and screwed into the base with a motor and 6 extractor blades.
The jar can be easily washed by hand or in a dishwasher. In addition, there's a self-cleaning function in automatic mode. If the glass is not properly installed, the motor will not start, which is very useful in terms of safety.
If we consider the lightest and most portable standalone blenders, Tenswall offers great solutions in terms of battery power, performance, and capacity. It offers thoughtful design and does not require complicated maintenance.
The blender launches with just one button push, which is quite convenient. You can get delicious healthy fruit drinks or sports cocktails really fast. If you need a self-contained compact blender that you can always take with you anywhere, this model from Tenswall is a great option.
---
Supkitdin Portable Blender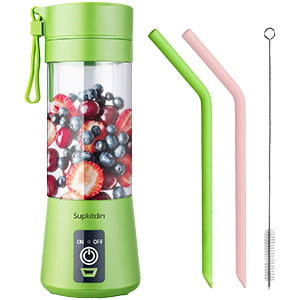 Pros
6 PCS stainless steel blade
Rubberized blender bottom
12 cups on one battery charge
Rechargeable from any power source
Features
Color: green
Capacity: 380 ml
Battery capacity: 2000 mAh
Material: plastic
Power: 175 watts
Weight: 1.1 pound
Manufacturer's brand: Supkitdin
The Supkitdin Portable Blender is a lightweight and compact device, designed primarily for cutting soft fruits and providing nutritious cocktails. It has a built-in battery, which can be charged from any power source, using a standard micro-USB cord.
As for materials, the jar is made of eco-friendly, food-grade non-toxic PCTG material, and 6 extractor blades are made of 304 stainless steel.
A non-slip bottom of the device is made of silicone to minimize vibrations when the motor is running. Since the battery capacity is only 2000 mAh, the blender can make about 10-12 cups on a single charge. It's worth noting that this portable blender is not designed to crush frozen foods.
The mini-blender from Supkitdin is designed for the convenient preparation of healthy cocktails in travel conditions. It has a lightweight but quite a spacious glass. You should not overfill the jar by more than 80% so that the blender can provide consistent content crushing.
Otherwise, it's an effective device that can help you prepare healthy fruit cocktails at any time. The set includes 2 straws and one special brush to help you clean the blender after use.
---
OBERLY Portable Blender
Pros
Micro-USB charging
6 versatile 304 stainless steel blades
Powerful engine
Harmless eco-friendly materials (ABS, BPA free)
One battery charge to make 10-12 cups
Ice tray included
Features
Manufacturer: OBERLY
Color: green
Capacity: 380 ml
Battery: 2000 mAh
Material: a food-grade plastic
Power: 175 watts
Weight: 1.3 pounds
The capacious but portable OBERLY blender has a built-in battery and a powerful motor. It model comes with a 2000 mAh battery, and one charge is enough to make about 10 cups.
This blender is able to quickly crush fruits and soft vegetables to a homogeneous substance, and can also make ice chips from small ice cubes, made in a special tray (included in the set).
The battery is recharged using a standard micro-USB cord, which is also included in the kit. AC, a car outlet or a regular power bank can be used as a power source.
This blender is designed in a bright green finish and has a BPA-free 380-ml plastic cup. Since the main material of the product is food-grade plastic, the manufacturer has taken care of its harmlessness by using special blends of eco-friendly materials.
The cutting element has an efficient shape and consists of 6 stainless steel pieces. The motor makes more than 22,000 RPM at a relatively low power of 175W.
With this blender, you can easily prepare a healthy breakfast, protein cocktail, smoothie, or fresh juice. The blender is perfect for soft peaches, oranges, grapefruits, kiwis, apples, strawberries, and other berries.
The blender will also effortlessly cope with soft vegetables, e.g. tomatoes or cucumbers. You should not fill the cup more than 80% or use large fruit pieces – crushing them will take much longer, and you risk overloading the engine.
In general, the OBERLY mini blender is pleasant to use in sports halls, at work, or while traveling. It's easy to wash, the cup is easy to remove, and your favorite drink can be prepared fast in less than a minute.
---
Tenswall Portable Blender, Black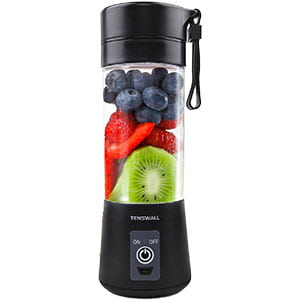 Pros
Sufficient battery power for making 10 cups of juice at 1 charge
380 cup capacity
6-point stainless steel blade
2 straws and a brush included in the set
Suitable for home and outdoor use
Features
Manufacturer: Tenswall
Color: black
Capacity: 380 ml
Battery: 2000 mAh
Material: BPA-free, food-grade plastic
Power: 120 watts
Weight: 1.25 pounds
The Tenswall portable blender is made of durable eco-friendly plastic. Due to a durable stainless steel 6-point blade, this blender is able to crush all popular types of soft fruits, berries, and other food products. Compared to more expensive stationary blenders, this model, of course, has lower motor power.
However, it doesn't mean that you can't make your favorite protein cocktail with. It can also be baby food or any type of fruit juice.
The blender is powered by a built-in 2000 mAh battery and can, therefore, be used whenever you like, e.g. during your vacation trip or at work. A single charge should be enough to make 10 cups of juice, which is quite enough, considering the cup capacity of 380 ml.
The blender is really convenient to carry with you. Due to its low weight, it does not, in fact, really differ a lot from a regular thermos or water bottle. There is a special lacing on the cover, which you can use to carry the blender with you.
The blender operates in one mode and is recharged in a regular way through a micro-USB cord. There are also 2 straws and a brush for cleaning included in the set.
The cup can be easily removed for washing and sits tight on the motorized base. There are special silicone elements on the bottom of the blender to prevent slipping and reduce vibrations when working.
This portable and compact blender can become a great solution for athletes who need to prepare nutritious sports cocktails fast and on a regular basis.
Healthy nutrition followers, young mothers who need to prepare homogeneous smoothies for their children will also benefit from this model. The blender is fully self-contained and convenient to use on the go. It fits any bag and is also convenient to carry in hand.
---
FAQ
Does the Hamilton Beach 51131 have a built-in battery?
This model does not have a built-in battery – it's AC-powered. A power cord is included in the set.
What is the maximum RPM value of the PopBabies Portable Blender? 
The PopBabies blender provides 22,000 RPM.
Which type of blade is used in this Ninja QB3001SS?
The Ninja blender has a four-petal stainless steel blade to ensure the most efficient and fastest performance.
Does a power supply come with the PopBabies Personal Smoothie Blender P20?
No. Only a USB cord is provided. You can also use any other micro-USB power cord as well as a suitable power supply. The versatility of the micro-USB allows you to power the blender even from a portable station.
Will Tenswall Portable, Personal Size Smoothies and Shakes
cope with ice?
Unfortunately, a blender is not designed for crushing ice cubes. However, if you add well-crushed ice into it, it will work just fine. The manufacturer does not recommend crushing ice with this blender.
My Supkitdin Portable Blender
doesn't start. What do I do?
In this case, the first thing to do is to check the battery. Note that the blender does not turn on while charging, so if it's plugged in and not fully charged, it will not start. Furthermore, the blender may not start if it's overloaded with content. The manufacturer recommends that the jar is filled up to 80%.
Can I take the drink with me in the cup OBERLY PB001-07?
If you try to remove the cup with liquid inside, it will spill out. For this reason, it is not possible to take a blender cup with a drink separately. If necessary, you can either pour the prepared drink into o bottle or take the blender with you, which is an optimal solution because it's compact and lightweight.
How many speeds does Tenswall Portable Blender, Pink have?
In fact, the blender runs on a single speed, which is activated by a single button on the blender.
How noisy is the OBERLY PB001-04?
If you compare it with regular stationary kitchen blenders, it does not make much noise. Of course, you will not be able to sleep while it works nearby but it's still can't be called loud at all.
Can Tenswall Portable Blender, Black crush ice?
The manufacturer categorically does not recommend using this blender to crush ice. Its insufficient power will not be enough to make ice crumbs. It's also impossible to blend frozen fruits in this blender but it is still perfect for soft fresh fruits or vegetables.
What is the most powerful portable blender on the market?
All portable blenders have low motor power, as they do not imply the preparation of large amounts of food and should be lightweight.
However, modern blenders have enough motor power to crush any vegetables and fruits to make nutritious cocktails and even ice crumbs. The best portable blenders, in terms of motor power and cup capacity, are blenders by PopBabies and Hamilton Beach, with 175W motors and 400ml cups.
What is the best blender for traveling?
Many travelers choose mini blenders by Tenswall. These portable blenders, which can run on a built-in battery for a long time, which is essential during the journey.
Some models have 4000mAh batteries, and the lightest ones have 2000mAh batteries. In the first case, the blender can make about 20 cups of nutritious fruit drinks.
It turns out that such a blender is able to prepare a total of 7.6 liters of liquid on a single charge. This is a serious indicator of a travel mini blender.
In addition, Tenswall blenders use a special 6-point 304 stainless steel blade. They also have completely sealed constructions, which do not leak. And if the blender is not closed tightly, it will not start.
All in all, compact Tenswall blenders are perfect for traveling. They can easily fit most car cup holders and any backpacks. It's also convenient to carry these blenders in your hand, as it is almost no different from a regular lightweight thermos or sports water bottle.  
What is the best compact smoothie blender?
If you are looking for the most compact portable blender, the best options are models by OBERLY or Supkitdin. Their thermos-styled blenders are carefully designed and weigh almost nothing.
They can hold up to 380ml of liquid and are recharged from any portable device via a USB cord. Their compact size and low weight are achieved by using a 2000mAh battery, which is still enough to make 10 cups of juice on a single charge.
Such blenders are easy to wash and carry in your hand or bag. They work effectively with food powders, fruits, vegetables, liquids, and crushed food, bringing the entire amount to a homogeneous mass in seconds.
Can I take a portable blender on a plane?
In fact, any blender should not be taken in your hand luggage. This is only possible if you remove the cutting element from the blender, pack it correctly, and place it in your main luggage.
For this reason, blenders can be taken with you but they should only be carried in the main luggage. This rule also applies to portable compact blenders for security reasons because even a compact portable blender has a sharp blade that can cause serious harm. Thus, you should not take a portable blender with you on board, as you may be asked to leave it during the check-in.